EASYCUBE
TS+
Saving, effectiveness and efficiency in the

design phases

.
The advent of low-cost technologies like
some 3D scanners and drones "democratize" the
relief process. The goal of EasyCUbe TS +
is focused on "democratizing" the
production of 3D information models.
So the designer and his collaborators
can directly create 3D models informative ones
by strengthening them with their own knowledge
and needs. All this translates into savings,
effectiveness and efficiency in the design phases.
CLOUDS OF POINTS AND
MESH
Points clouds and

photo meshes
EasyCUBE TS + is a stand-alone application
designed to import and manage in a way
performing photographic meshes composed of
tens of millions of polygons, unmanageable
in CAD environments such as Autocad and Bricscad.
On these "raw" data EasyCUBE TS +
allows you to process lightweight 3D
models, clean and informative (classified
in their constituent elements),
optimized for design processes.
TESTING THE
3D MODEL
more security

for the design
The correct elaboration of the project
idea can not disregard the depth
knowledge of the area in question.
It is possible to know the
reliability of a 3D model?
Inspired by the world of mechanics and
of the metrology discipline, EasyCUBE TS+
allows you to test the reliability
of the 3D model.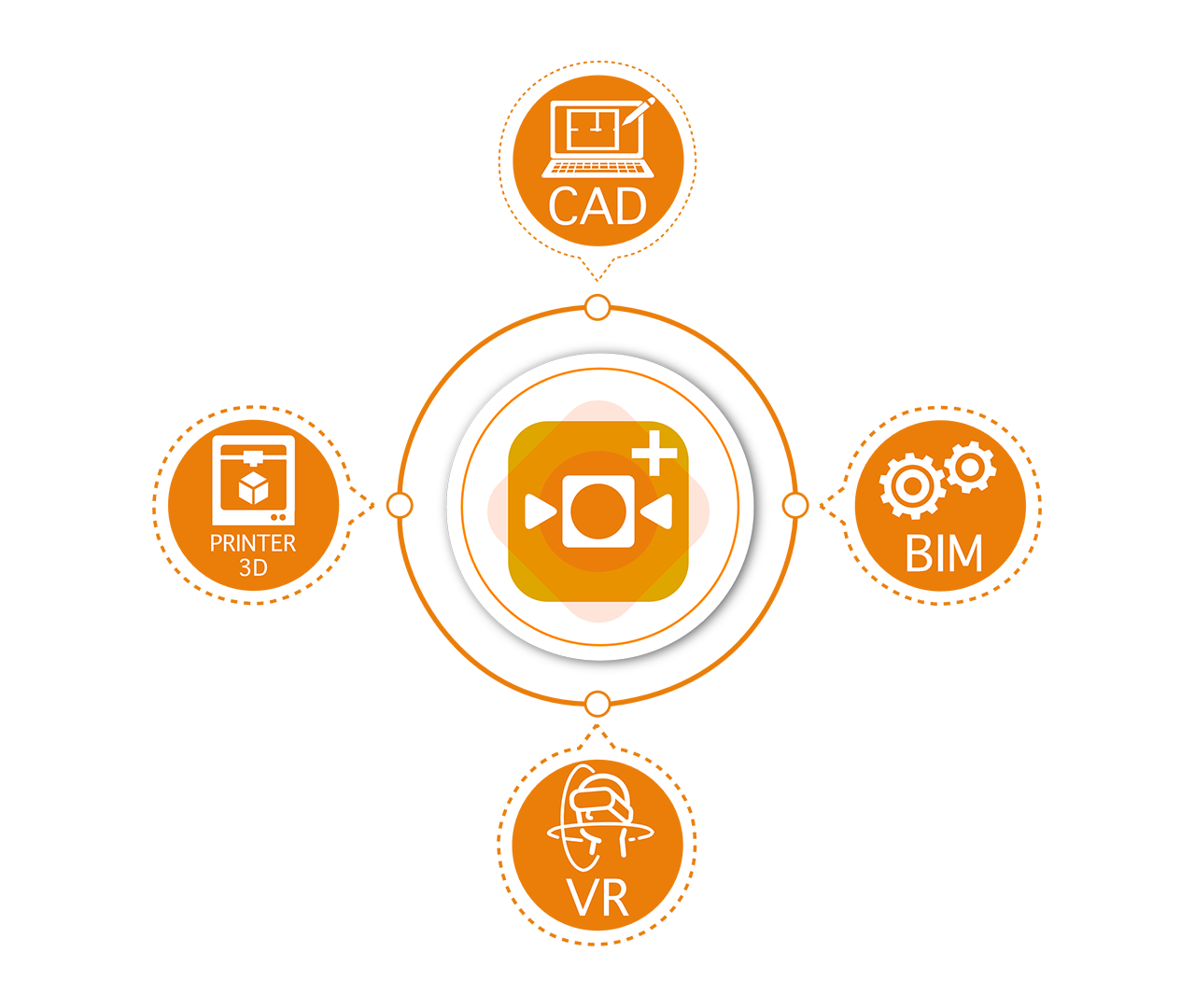 EXPORTS AND
EMPLOYMENT
Export for

CAD and for virtual reality
The 3D information models produced
with EasyCUBE TS+ can be exported
to DXF for CAD or in a new project
Easy to create visual simulations,
illustrate the design hypotheses, etc.
Within the CAD, with the tools of
3D Utilities modeling for AutoCAD
or BricsCAD, you can integrate the
model with architectural parts
(relevant and project).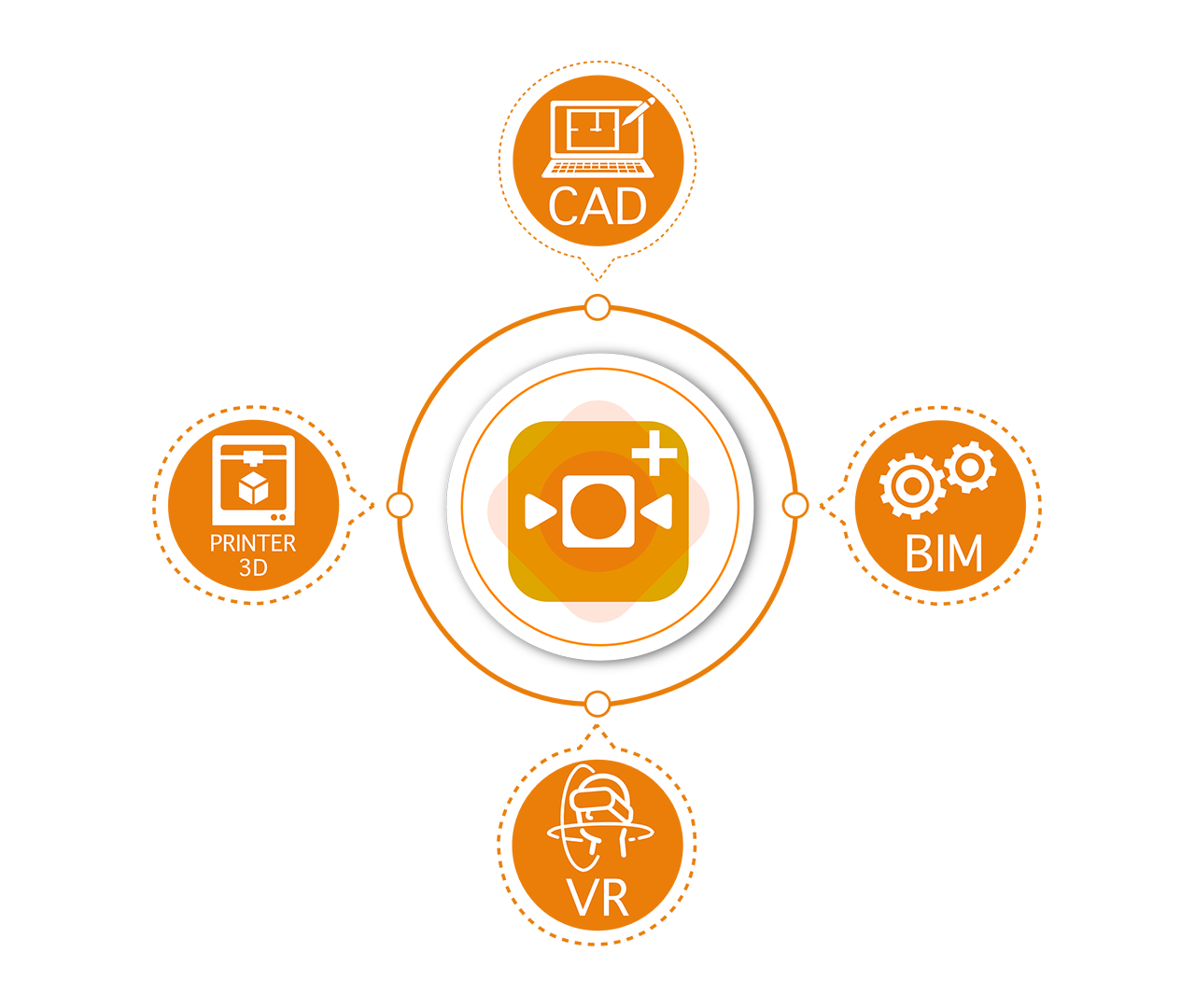 COMPARATIVE TABLE OF
FUNCTIONS
EasyCUBE

TS+

includes all the features of the free version.
| Functionality | TS (free) | TS+ (149€) |
| --- | --- | --- |
| Navigation tools and model management. | ◉ | ◉ |
| 2D and 3D images (Anaglyph, 3D TV and VR Visors). | ◉ | ◉ |
| 2D and 3D movies (Anaglyph, 3D TV and VR Viewers) in FullHD up to 60fps. | ◉ | ◉ |
| Photographic book: virtual, vector and stereographic images. | ◉ | ◉ |
| Dimensional queries. | ◉ | ◉ |
| Layers management. | ◉ | ◉ |
| Viewpoints: Default viewpoints. | ◉ | ◉ |
| Export to Sketchfab. | ◉ | ◉ |
| Import Points or Mesh Clouds (with texture support). Supported formats: ASC, TXT, XYZ, PTS, STL, PLY, OBJ. | | ◉ |
| Working Box: estimates of volumes, isolation of work areas, quick settings for the creation of visual simulations. | | ◉ |
| Custom Objects: a complete and versatile tool to perform virtual surveying on point clouds or meshes, organized by layers. | | ◉ |
| Custom Objects: automatic and high-performance generation of DTM (Digital Terrain Model) or DITM (Informational DTM). | | ◉ |
| Custom Objects: DTM / DITM testing tool, which allows to compare the starting data with the DTM / DITM generated, in order to validate it or vice versa, to highlight any critical points to be fixed. | | ◉ |
| Custom Objects: DTM / DITM can be exported to DXF (to be managed in AutoCAD, BricsCAD or similar) or can be saved in a new Easy project (for example to be supplied to customers bundled with the free EasyCUBE TS software). | | ◉ |
THE FUNCTIONS OF EASYCUBE
TS+
Function chart
Information
Language: English | Italian.
Trial version: EasyCUBE TS+ in trial version keeps all the features of the paid
version for a limited period of time, after the trial period
you can activate it with the purchase of a license.
Import point cloud and mesh formats: ASC, TXT, XYZ, PTS, STL, PLY, OBJ.
System requirements
Supported operating systems: Microsoft Windows 7/8/10 a 64 bit.
Processor (minimum): Intel® Pentium® 4 or AMD Athlon ™ 64 processor.
RAM memory: 4 GB (8 GB or higher recommended, depending on the size of projects).
Screen resolution: minimum supported 1440x900 (with minor resolution some commands are not visible);
supported high resolutions (2K or 4K monitor).
Disk space: 1 GB for installation.
Pointing device: Compatible with the gesture of the MS-Mouse Touch monitors.
Graphics Card: Video card for Windows with minimum resolution 1024 × 768 with OpenGL support (2.0 or higher)
and support for the GL_ARB_vertex_buffer_object (VBO) and GL_EXT_framebuffer_object (FBO) extensions.